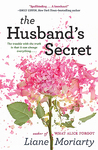 The Husband's Secret
by
Liane Moriarty
My rating:
4 of 5 stars
Seriously though - I start Moriarty's books, and I cannot stop. I was so into this one, I almost forgot what I was doing while listening. "What Alice Forgot" is still my favorite, but this is my third of Moriarty's books in the last couple months, and I already have started my fourth.
This one was different than "What Alice Forgot" and "Big Little Lies" in that Moriarty doesn't wait until the last 10% to reveal the main twist, but still a really powerful story. Just like her others, she really makes you wonder what you would do and challenges the roles and patterns we so naturally fall into without question. This story is saucier than her others, so not for everyone, but I can't help myself.
Happy reading--
ps. I really want to hang out in Sydney after all these stories. Field trip anyone?